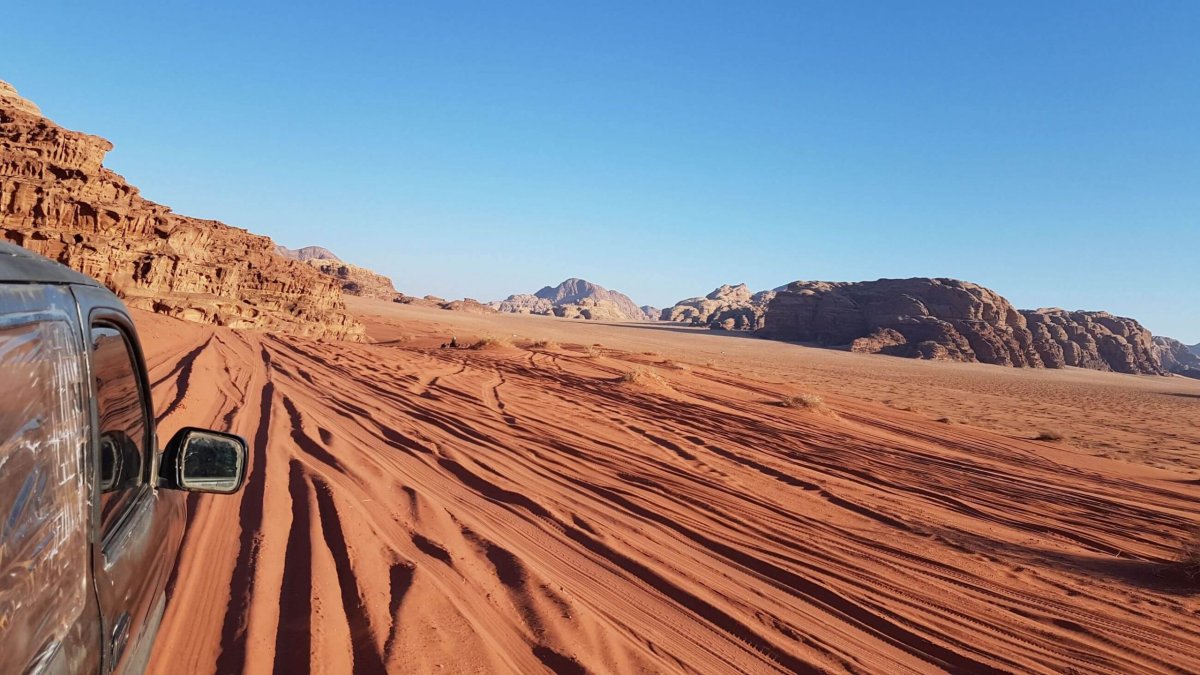 Cestopis z roku 2018 napsala Monika _6
Have you seen the Martian? Lawrence of Arabia? Now you have a brief idea about Wadi Rum.
Imagine red sands, sun, dunes, camels, jeeps, sweet tea, lazy bedouins, smell of grilled lamb, milkyway... and complete silence at night!
We leave Aqaba to get in one hour and few minutes to Wadi Rum village, a meeting point for all bedouin squads taking care about tourists. Driving here is easy, you just get on highway and take the first right after a big sign Wadi Rum. We get stopped just once at checkpoint by curious police asking where we are from (yeah, no idea about Czech Republic) and where we are heading to. In general, highway is pretty empty and most of cars goes pretty slow (even under speed limit) - something you would not expect in the Middle East country... you just need to be careful about sand on the road and stray camels. On the way we find out that our Bluetooth is not working and the car has no jack (yes, we were prepared!), just an old audio input. So we are listening local radio stations - one of our favorites was Rum. Only sound of steam machine got thru those fine songs. The first meeting of bedouin tribe was near Visitor center, where we needed to get out of car and go to show Jordan pass. 
Before we went on travel, I've checked reviews of many bedouin camps in this area and the final choice are Bedouin Directions. Their camp is far away from others, they communicate by email, nothing was problem for them (we changed the reservation at last minute from 5 people to 4 people - poor Fernando stayed in Vienna) and they have fair prices (50 JOD per person including a jeep tour, dinner, one night in camp and a breakfast). We meet our guide in village at meeting point - first building on the right. He takes us to Mehedi's house, where we park our car on carpet and change for a jeep. Now the fun begins!
In four hours we see several places (just check their offer here: https://bit.ly/2GczAcS ), get our bones shaken, we run up to the top of the dune, check out ancient inscriptions or house of Lawrence (in case you didn't know, he was a real person), get refreshed by tea, climb up Um Frouth Bridge and watch sunset over beautiful scenery. After all this instagram material, we head to the camp - it gets chilly without no sun, so the the jackets were a good item to pack with us. 
Camp itself is hidden and surrounded by rocks - it has only several tents, one main "chief" tent and an open air bathroom with running water and showers - all is surprisingly clean considering the amount of dust all around us.
time somehow changes here and runs differently
Actually we are just oriented by the daylight and night (it gets dark around 6 pm and it feels like it's already late night), but it only adds to the magic of this place. For a dinner we have a special bedouin bbq, prepared in the version of "ground grill", accompanied by bedouin music and sweet tea (they put in a half kilo of sugar - we asked!). All this care and ambiance makes us comfortable and tranquil. 
If you are lucky, you can see a milky way. If not, there is a thousand of stars still visible around you! We ask the guide for some view point and he leads us behind camp, just a short walk and climb and we are in the begging of desert, nothing around us, just sand, rocks, silence and shooting stars (really, we've seen several of them). All of this combines to the unforgettable moments.
All tired by a long day we go to our tent with six normal beds and plenty of blankets, in case we will be cold in the night (if you wear thermo garments it's perfectly ok). In the morning, we are woken up by light and smell of breakfast - again sweet tea (after this trip in this amounts, we are going to get diabetes). With a bit of sadness in our hearts we are packing our stuff and getting ready for a jeep ride back. Me and Martin have decided to change a jeep for a camel - we got this crazy idea around midnight and the guys were able to arrange it for us and all was prepared in the morning (the price was 10 JOD per person). Now we are enjoying the view from camel back (they don't stink so much as expected) and step by step are approaching Wadi Rum village squeezed between two big rocks. Our bedouin universe ends here and we have to get back to the reality, start the car and drive towards Petra, one of the 7 wonders of the world.
Stay tuned for this beautiful city hidden in canyons!
Jak se ti cestopis líbil?
Zážitky pro tebe sepsala Monika _6
Monika _6 procestovala 41 zemí světa světa, nejvíce Evropu a Asii. Na Cestujlevne.com se přidala před 3 lety a napsala pro tebe 8 úžasných cestopisů.
Zobrazit profil
0 komentářů
Žádná otázka není hloupá ani špatná. Pokud známe odpověď, rádi se o ni podělíme.